Pancake accomplishment is now part of the portfolio of all three cooks of Casa Hayes-Boh. James has tinkered for years with variations of Deborah Madison's buttermilk pancakes, making his
yogurt-based version
locally famous. Just last week, Pam delivered a scrumptious stack of
maple-pecan pancakes
to our table and this blog.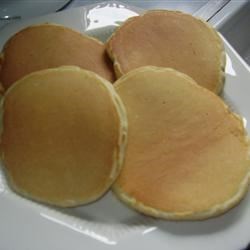 Photo: All Recipes
Paloma's pancakes looked
much better!
Today, Paloma rounded out Team Pancake with an incredibly fluffy stack of
eggnog pancakes
, using her smart phone for in-kitchen access to a popular recipe on
All Recipes
. We enjoyed the rich flavor of these cakes, which do not require toppings. Paloma did find them to be a bit "chunky," and might thin the batter with a bit more milk next time.
One tip: the recipe suggests pre-heating the griddle before starting to prepare the batter. This might be rushing things just a bit, though it is good to have the griddle hot before heating any cakes.
The griddle, by the way, is really key. We are very fortunate to have a cast-iron griddle and a fifth gas burner that makes it easy to heat it evenly.