We love to cook, but only as amateurs! A chef is not simply someone who cooks really well; it is a seriously challenging profession, preparation for which is arduous. From various documentaries, I have noticed the great attention paid to planning, organizing, and economizing, with even more attention to
training
. Culinary students practice cutting, slicing, paring until most regular people would be bored crazy!
As part of our quest to see all things foodie, we were drawn to
Pressure Cooker
, a film about something even more important to us: education. The film traces a year in the life of the demanding and extraordinary culinary-arts teacher Wilma Stephenson and of the students who rise to the constant challenges she presents. The stakes could not be higher for these Philadelphia high school students: a year-end culinary contest can spell the difference between no college at all and a full ride to some of the best cooking schools on the planet.
Viewers learn quickly that Stephenson pushes her students very hard, brooking no nonsense, laziness, or disrespect. She seems to view success in her class as a matter of life and death, and given the retreat of support networks from American inner cities, that view is well-founded. The students in the middle and end of the year number far fewer than those the viewer sees on opening day. The demands are unrelenting, but so is the love. Better than many films of this kind,
Pressure Cooker
reveals various dimensions of the lives of the students involved, some of whom do simultaneously pursue excellence in other areas, scholastic, artistic, and athletic.
Throughout the film, students cut an extraordinary number of potatoes into little football shapes and store them in water so that they will have uniform pieces with which to cook. This combined with many scenes of dicing and sharpening to reinforce our understanding that culinary education has at its foundation the mastery of skills that culinary students
think
they have already mastered. It is in this context that I was profoundly moved when a contest judge exclaimed that the pieces of a student's diced vegetables looked "like little jewels."
Rote mastery of the basics is not all that is going on, of course; it is the foundation. The teachers (mostly Stephenson but also some of the judges) exude passion for food and a balance of compassion and high expectations for the students. Viewers can
almost
taste the results!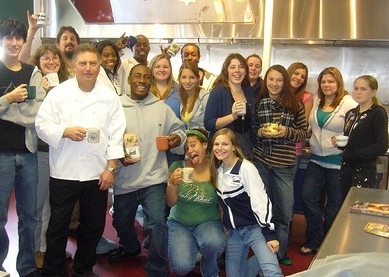 Culinary students with
good coffee.


Click to enlarge.
What is shown on screen is compelling enough, but we know that much more is going on in the hours that are not shown. We know that the pots and pans and knives and spoons the students use -- much less the cans and bottles and fresh vegetables -- do not appear on their own, and that dedicated teachers all too often use their own time -- and often their own funds -- to make sure classrooms are equipped. This is one of the challenges of teaching any subject, but must be all the more pressing in culinary education.
Pam and I got a brief glimpse of this world a few years ago when we did some
coffee education
for the
culinary students of Bob Buccino
at Nantucket High School. Mr. Buccino recognizes that as difficult as it is for non-millionaire families to live on the
beautiful island
now, it will only be more difficult in the future, and educating students for professional positions in the island's incredible number of high-end restaurants is a real key to Nantucket's social and economic development. Our own small contribution to his work with students was to help them understand the value of pairing
good coffee
with the good food -- a lesson that had not yet been learned at most island establishments we have visited (even the coffee shops!).
At this point, I have to have a healthy serving of crow, as my only writing about Rachael Ray has been an unfortunate incident with Dunkin' Donuts I describe on my
Coffee Hell
page. Without backing off from that particular rant, I have to say that she has more than redeemed herself with her reaction to the Wilma Stephenson story. Recognizing the tremendous successes that Stephenson and her students had achieved with a modest investment in equipment and supplies, she
invested very heavily
in both, and also in the individual students. At a time when politicians across the so-called political spectrum are willing to slash investments in education, Rachael Ray deserves a lot of credit for championing this teacher and her students.
At one point in the film, Wilma Stephenson admonishes a student to improve the presentation of a dish, with an upscale restaurant in mind. By the time I was in high school, I had probably been in only one restaurant that even had upscale ambitions, and none that would really qualify as the kind of place these students are preparing for. It occurred to me that the experiences of Stephenson's students with fine dining would be even more limited. For that reason, it is all the more helpful that Ray invested not only in a glorious new kitchen for the classroom, but also in a "bistro" that now provides an upscale restaurant experience for the students. Alas! I would love to have this kind of
immersion in coffee education
on my own campus.
The closing credits of the film mention two important web sites. The
Pressure Cooker page
on Take Part: Inspiration to Action puts the culinary program in the context of other education projects. The
CCAP web site
provides details about culinary competitions, scholarships, and programs in Philadelphia and other cities.