This has been a great week for Mexican food at our house, culminating with some nice leftovers Friday evening. Monday we had sweet-potato quesadillas, with a smoky, spicy filling brimming with cumin and various peppers but topped with a cool sour cream. For my birthday on Wednesday we had the
luscious rose-petal chicken
that Pam mentioned in an earlier post. This was all the wind-up for the perfect pitch on
Cinco de Mayo
.
This
blog is all about using recipes
that have been sitting on our shelves, sometimes for years, in books we use for only a recipe or two each. The recipe we chose for 5-5-11 was a special case, coming from a book we are pretty sure we have not used at all. Ironically, Helene Siegel's
Mexican Cooking for Beginners
had eluded us in part because its most interesting recipes looked too complicated.
I chose -- from page 64 -- chiles stuffed with chicken, raisins, and nuts. This was another dish-intensive dish: in addition to chopping surfaces and bowls, it required a skillet, Dutch oven, and baking pan. And I had actually skipped a step by using canned tomatoes, since local tomatoes are not yet in season. The intimidating part for me, though, was roasting the chiles. This is what has kept me from making my own
mole poblano
, even though I fell in love with it during our summer in Puebla (where the dish was prepared for me in an Aztec home).
I should have taken a photo of the unusual site of bright green peppers being charred directly on our stove-top, but this was so successful that I am sure I will do it again soon. It was a bit tricky to be sure, but Siegel's words do not just direct the reader: she is more like a coach than an author, and I was made confident enough to pull the dish together and knowledgeable enough to do it a bit better next time. (Pam helped with the spices, but mostly with getting the rest of the house in order while I was absorbed in this preparation.)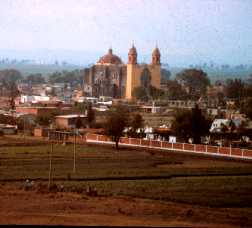 San Andres Cholula
This dish reminded me very much of the first
chiles rellenos
(literally: stuffed chiles) we had -- again in Puebla, but not with Aztecs -- in
our visit during the summer of 1989
. The mother of our friend Homero made them in the authentic style, meaning that the chiles themselves varied from mild to hot to impossible. I had a hot (which I liked) and then an
impossible
, from which she encouraged me to scrape the sweet/savory stuffing. What I made yesterday was not exactly the same, but it was very similar. Now that I am somewhat familiar with the roasting, I will try Siegel's recipes for both the the rellenos (as with most restaurant versions, hers is filled with cheese) and the Holy Grail of Mexican cooking: the mole (pronounced moh-LAY) itself!