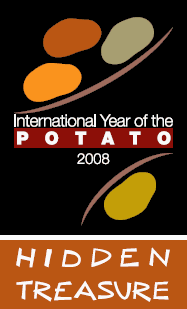 As described on my
Geography of Food
page, 2008 was YOP.
It is over, but we still
celebrate.
The soup is green, not the potatoes!
(
If Dan Quayle could have done what I just did -- spelling the spud as singular and plural -- he might have been an ex-president by now.
)
This evening we have a gratuitously non-vegetarian dinner because we are being thrifty with our Thanksgiving turkey. After the main meal, the sandwiches, the
hash
, the
stuffing-egg cups
, and the amazing turkey-rice soup, we still had broth. I am sure this evening's recipe could be made with a vegetable-based broth just as successfully. We we would never have found this recipe without broth, however, because it was broth that led us finally to open Jean Childress' little
Soup Cookbook
from the Country Kitchen Collection.
This booklet combines the author's interest in simple dishes, drawing, and calligraphy -- each of its 32 recipes is hand-lettered. She published a few dozen thematic booklets, mainly in the 1980s, and they seem to be out of print these days, though circulating among used-book shops. We have no idea where or when or how we received our copy.
I began the green potato by peeling and cubing six medium potatoes (the recipe calls for four large) in four cups of broth. After 15 minutes, I added one medium onion, finely chopped, and two bags of greens frozen from our summer farm share. The recipe calls for one pound of kale, and this seems to be roughly equivalent. Throughout the summer, Pam would blanch and freeze any greens we did not use, so that we could do exactly this with them in the winter. I added another four cups of broth and salt and pepper to the soup, though not the 2 teaspoons of salt called for!
After cooking another 20 minutes (extended by 5 because the greens were frozen), I ran all of contents in a blender and returned it to the cooking pot, where I added one half cup of light cream and blended through. In retrospect, I should have baked some bread to go with this. In the event, we had it with "liquid bread" in the form of our home-brewed English Ale.
Verdict: YUM!
The broth actually makes a difference. Thanksgiving Day, we slowly roasted our free-range, Vermont turkey from Misty Knoll, between two small piles of briquettes in an old-school Weber grill. Near the end, we put in hardwood to make this a smoker, and the flavor combined well with the garlic-paprika-olive oil rub I had applied hours earlier. Now weeks later, we got a creamy, delicious, and
smokey
potato soup with plenty of nutrients.