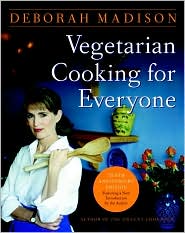 We do have other good cook books, but as readers of this blog have surely noticed by now,
Deborah Madison's tome is the Bible of our kitchen
. As the name implies, it is full of vegetarian recipes, but they are available to everyone. Of course that is true of all vegetarian recipes, but I think what Madison means is that these are recipes that are so enjoyable that carnivores will not whine about the "sacrifice" they are making by eating lower on the food chain for a meal or two.
Our latest foray began in an interesting way. We had accumulated a few squash and fresh herbs over the past couple weeks, and were looking for an original way to use them. Pam turned to the index of VCE and found something that used the stuff we had -- or reasonable substitutions, such as butternut and pattypan (flying saucer) squash for the zucchini squash specified.
I must say that I consented to the choice Sunday night without looking at it, and in fact on Monday morning I realized that I had failed even to note the name or page number -- Summer Squash, Herb and Rice Gratin on page 286. Fortunately, Pam marked the recipe itself and noted the link back to the Béchamel sauce required. Unfortunately, the combination was not going to fit well between the evening's scheduled meetings.
In the end, all was well, as I was able to substitute ingredients and cut corners enough to make the dish fit in our time and ingredient constraints. The shredding of butternut squash is more time-consuming than zucchini, especially since we insist on shredding with our high-karma
manual shredder
, rather than any kind of electric gizmo. I did the shredding as quickly as I could, in order to give the lightly salted squash a bit of time to drain while I worked on the sauce and cooked the rice.
Béchamel sauce is sometimes described simply as "white sauce," but in the case of this recipe the scalded milk is first infused with onions and other herbs. We
took a walk on the wild side
-- as we so often do -- and just threw in all the herbs we had on hand. The infusion is done simply by scalding the milk with these ingredients and letting the chopped onion and herbs sit in the hot milk. Given the need to hurry, I kept the milk over a very low flame (cooking with gas!) and let it steep for just 5-7 minutes or so.
Here is the tricky bit, which I somehow actually did as instructed: Once I was satisfied that the milk was adequately aromatic, I poured it through a sieve into the bubbling butter-and-flour roux. As I write this, I realize that I could have sieved the milk and
then
whisked it into the roux, but that's not what Deborah Madison told me to do!
The basic idea of this recipe is to divide this herbish/onionish white sauce into two parts, mixing one part with rice and shredded squash for the bottom of the pan and mixing the other part with shredded Parmesan (see trusty shredder above; it got a work out) as a cheesy top layer. Then the whole thing gets browned in the oven.
"Gratin" means cheese, at least to me, which is why I dove into this recipe, despite my better judgment. The result was good enough that we will try this again, when we have a bit of leisure to do it right. We will refrain from mint, which was interesting but probably not ideal with the other herbs.